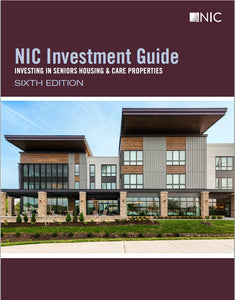 NIC Investment Guide: Investing in Seniors Housing & Care Properties, Sixth Edition
Regular price $50.00 Sale
Published Biennially

The NIC Investment Guide is the definitive resource for anyone involved in or looking to enter the seniors housing and care property sector. It provides the most current, comprehensive, and reliable industry data to help investigate the opportunities and risks of investing in seniors housing and care properties.


The NIC Investment Guide includes a comprehensive introduction and defines the investment characteristics of the sector with data updated through 2019, including:
Pricing and volume metrics on closed sales transactions for the past ten years
An introduction to the industry's investment characteristics, performance and leading players
Comparison of seniors housing property investment and performance characteristics to other types of commercial real estate
New in the NIC Investment Guide, Sixth Edition are detailed appendices covering the middle market in seniors housing, technology trends, and the collaboration between housing and healthcare.
Offering real value to new investors as well as those already active in the space, The NIC Investment Guide serves as a primer for understanding the seniors housing and care sector, extending NIC's mission to advance the quality and availability of seniors housing and care options for America's elders through research, education and increased transparency.