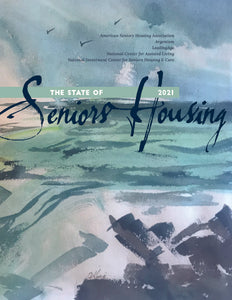 The State of Seniors Housing 2021
Regular price $250.00 Sale
(Print Version)
Published Annually in the Fall.
The principal research report on seniors housing operational performance with data from almost 1,800 seniors housing properties, together comprising over 225,000 units (or beds, in cases where a unit is occupied by more than one resident and the residents are unrelated). All data is representative of the industry for the year ending December 31,  2020. Survey respondents were instructed to remove extraordinary revenues and expenses due to COVID-19 from their reported results. The report contains pertinent financial and performance measures for the 12 months ending nearest to December 31, 2020, including: resident turnover and length of stay, annual financial results per occupied unit, staffing ratios and labor costs, other key cost items, key financial performance indicators and more. Throughout its 25-plus year history, the report has served as an important resource for owners, operators, lenders, investors, and other professionals interested in the market-rate seniors housing business.
The State of Seniors Housing 2021 is a collaborative research project between the American Seniors Housing Association (ASHA), Argentum, LeadingAge, National Center for Assisted Living (NCAL), and the National Investment Center for Seniors Housing & Care (NIC).
This publication is only available in a hard copy format.